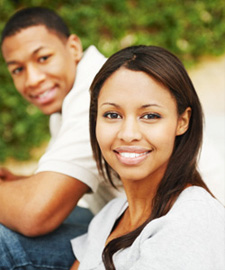 Treatments

There are two types of dental cosmetic treatments: direct and indirect.

Direct restorations are fillings placed immediately into a prepared cavity in a single visit. They include dental amalgam, glass ionomers, resin ionomers and some resin composite fillings. The dentist prepares the tooth, places the filling and adjusts it during one appointment.

Indirect restorations generally require two or more visits. They include inlays, onlays, veneers, crowns and bridges fabricated with gold, base metal alloys, ceramics or composites. During the first visit, the dentist prepares the tooth and makes an impression of the area to be restored. The impression is sent to a dental laboratory, which creates the dental restoration. At the next appointment, the dentist cements the restoration into the prepared cavity and adjusts it as needed.

Composite Fillings

Composite fillings are a mixture of glass or quartz filler in a resin medium that produces a tooth-colored filling. They are sometimes referred to as composites or filled resins. Composite fillings provide good durability and resistance to fracture in small-to-mid size restorations that need to withstand moderate chewing pressure. Less tooth structure is removed when the dentist prepares the tooth, and this may result in a smaller filling than that of an amalgam. Composites can also be "bonded" or adhesively held in a cavity, often allowing the dentist to make a more conservative repair to the tooth.

The cost is moderate and depends on the size of the filling and the technique used by the dentist to place it in the prepared tooth. It generally takes longer to place a composite filling than what is required for an amalgam filling. Composite fillings require a cavity that can be kept clean and dry during filling and they are subject to stain and discoloration over time.

Indirect Restorative

Sometimes the best dental treatment for a tooth is to use a restoration that is made in a laboratory from a mold. These custom-made restorations, which require two or more visits, can be a crown, an inlay or an onlay. A crown covers the entire chewing surface and sides of the tooth. An inlay is smaller and fits within the contours of the tooth.

An onlay is similar to an inlay, but it is larger and covers some or all chewing surfaces of the tooth. The cost of indirect restorations is generally higher due to the number and length of visits required, and the additional cost of having the restoration made in a dental laboratory. Materials used to fabricate these restorations are porcelain (ceramic), porcelain fused to a metal-supporting structure, gold alloys and base metal alloys.

All-Porcelain (Ceramic)

All-porcelain (ceramic) dental materials include porcelain, ceramic or glasslike fillings and crowns. They are used as inlays, onlays, crowns and aesthetic veneers. A veneer is a very thin shell of porcelain that can replace or cover part of the enamel of the tooth. All-porcelain (ceramic) restorations are particularly desirable because their color and translucency mimic natural tooth enamel.

All-porcelain restorations require a minimum of two visits and possibly more. The restorations are prone to fracture when placed under tension or on impact. The strength of this type of restoration depends on an adequate thickness of porcelain and the ability to be bonded to the underlying tooth. They are highly resistant to wear but the porcelain can quickly wear opposing teeth if the porcelain surface becomes rough.

Porcelain Fused To Metal

Another type of restoration is porcelain-fused-to-metal, which provides strength to a crown or bridge. These restorations are very strong and durable.

The combination of porcelain bonded to a supporting structure of metal creates a stronger restoration than porcelain used alone. More of the existing tooth must be removed to accommodate the restoration. Although they are highly resistant to wear, porcelain restorations can wear opposing natural teeth if the porcelain becomes rough. There may be some initial discomfort to hot and cold. While porcelain-fused-to-metal restorations are highly biocompatible, some patients may show an allergic sensitivity to some types of metals used in the restoration.

Indirect Composites

Crowns, inlays and onlays can be made in the laboratory from dental composites. These materials are similar to those used in direct fillings and are tooth colored. One advantage to indirect composites is that they do not excessively wear opposing teeth. Their strength and durability is not as high as porcelain or metal restorations and they are more prone to wear and discoloration.


After Your Procedures

After your cosmetic dentistry procedures, you'll find that you no longer feel like hiding your smile. You'll feel more relaxed when going out with friends and meeting new people and more confident at work.

Once you have the smile you've always dreamed of, you'll be glad to show it to others. A smile, more than anything else, helps people see you as friendly, approachable, and appealing. You'll look better in photographs and your face will look more balanced and attractive.

Look into cosmetic dentistry if you're interested in improving your appearance and confidence. There are many procedures that can improve your smile and the way you look.