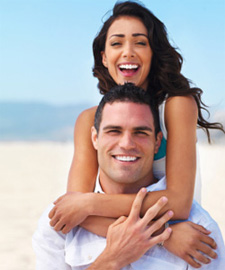 You have an image in your mind. An old picture, a magazine cover, an idea. This is what you want your smile to be. That's how it all starts. Careful planning and a will to do is how we change lives. A smile can be so gentle and yet so rewarding when you have the desire. At our office expect that attention.

Please click a procedure below: Bleaching
There are many products currently on the market that promise whiter, brighter teeth, many times overnight. But, dental professionals, and the American Dental Association, issue a word of caution about the improper use of such over-the-counter products, as they are often too abrasive and can damage the teeth with extended use. Most will contend that there is nothing harmful about many teeth bleaching procedures, as long as they are dentist-supervised. Teeth bleaching can effectively whiten and brighten the color of teeth for up to five years, without softening or weakening the teeth and gum line.

// Back To Top

Bonding
Less expensive and invasive remedy than crowns or veneers, bonding is a great way to mask chipped, stained, injured, or otherwise imperfect teeth. During the procedure, a delicate layer of plastic is painted onto the damaged teeth, adding strength and making them virtually indistinguishable from natural teeth. To find out if bonding is right for you, please contact us today.

// Back To Top

Bridges
Bridges are an excellent way to fill in missing-tooth gaps with natural-looking artificial teeth. They can also correct speaking and chewing problems, and decrease strains felt when biting. Bridges can only be removed by a dentist (so they are semi-permanent), but they are comfortable, discreet, and known to strengthen existing teeth. To find out if bridges are right for you, please contact us today.

// Back To Top

Composite Fillings
Teeth that have been affected by tooth decay (caries or cavities) require a filling. There are many different types of fillings, including: dental amalgams and composite resins

// Back To Top

Crowns
Also called caps, crowns fit over teeth to hide misshaping, misalignment, cracks, discoloration, or other imperfections. Crowns alleviate pain in teeth and offer extra support to those teeth that are weak or injured. They can greatly enhance the appearance of your smile and make your teeth much more durable. To learn more about crowns, please contact us today.

// Back To Top

Root Canals
Root canals are essentially how Dr. Athans removes infection from a tooth and repairs the damage done by the decay. The procedure is called a root canal after the natural pocket in the tooth where the infection occurs. The root canal contains the soft pulp and nerve tissue. When a tooth becomes infected, the pulp and nerve become an irreversible breeding ground for bacteria. This is why Dr. Athans must remove the contents of the root canal. The function of the tooth remains in tact after an endodontic (root canal) procedure, with the exception that without the nerve, the tooth will not feel hot or cold.

// Back To Top

Teeth Extraction
Extraction (or removal) of teeth is most often necessary when the mouth becomes overcrowded or when gum disease or tooth decay has severely damaged the teeth. In both instances extraction can eliminate the teeth that are causing problems and prevent infection from spreading to surrounding teeth.

During the extraction of teeth a general or local anesthetic will be used depending on how severe the problem is and how many teeth need to be removed. If the problem is serious the patient is usually sedated using general anesthetic so that they can remain groggy throughout the extraction. After the necessary teeth have been extracted wounds are usually stitched up to aid in the healing process.

// Back To Top

Ultra-Sonic Scaler
Simply put, a scaler is our hygeinist's way of cleaning your teeth with water – a very controlled, high-pressure stream of water. Our scaler operates on a much shorter frequency, or wavelength, than most scalers. The result is a cleaning that is faster and more comfortable than traditional procedures.

// Back To Top

Veneers
Veneers, which slide snugly over teeth, offer the perfect solution to stained, chipped, cracked, injured, and misaligned teeth. An excellent alternative to crowns, they look completely natural, are resistant to injury, and are long-lasting, making them one of the most effective cosmetic procedures options available. To learn about veneers, please contact us today.

// Back To Top


Featured Services

Learn more about specific dental procedures by clicking the links below:

» Dental Implants




» Cosmetic Dentistry




» Evaluation Tools

Casey Interactive System
Having a thorough understanding of the dental procedures we perform allows our patients to make informed decisions about their treatment. Our Casey Interactive System is a state-of-the-art multimedia program that helps us educate patients in a clear, concise manner.

DIAGNOdent
The Diagnodent is a powerful new laser used for early detection and diagnosis of tooth decay. The Diagnodent also makes it easier to find decay that may be hidden in the cracks and crevices of teeth. Earlier detection means less damage, pain, and hassle for you down the road. Please contact our practice today to learn more about the Diagnodent.

Intraoral Camera
The intraoral camera is a revolutionary diagnostic dental tool allowing us to more identify potential problems within the mouth early on. The tiny intraoral camera can be inserted into a patient's mouth, taking pictures of the teeth and displaying the images on a computer screen. Using the intraoral camera saves time and makes problems easily visible to both patient and doctor. Patients can view the areas we will be working on, making procedures more understandable. The accompanying software also provides clear and accurate data so that the best treatment options can be selected. To learn more about the intraoral camera, please contact our office today.